As a sales leader, it's never been more critical to be on the ball. Though a vaccine for COVID-19 is slowly being administered, you cannot wait to inoculate your sales team against the lingering effects that the pandemic had on your sales methodology.
We at The Brooks Group took the pulse of your fellow sales leaders throughout 2020, and as the year drew to a close, it appeared that many of your contemporaries were taking steps to shore up their leadership playbook to reflect the dynamics of the times.
Our final Sales Leadership Survey for 2020 projected a mixed bag of optimism, concern, and, most importantly, a genuine interest in upskilling their sales professionals. More than half (53 percent) of sales leaders told us they were looking for training options to prepare their team for sales excellence. Additionally, 47 percent were weighing increases in quotes for 2021, and another 51 percent will be changing key performance indicators, or KPIs.
Though the times may have changed, it's clear that the skill level of your sales team – as always – will either set your organization apart from the competition or erode trust in the eyes of your buyers.
It's critical that you set your sellers up for success with the proper training and the leadership they need to thrive in a competitive environment.
In our experiences, as well as through our Sales Leadership Training programs, we recommend sales leaders follow these eight best practices to achieve leadership excellence:
1. Make the quota discussion a collaborative effort.
The quickest way to upset a company's sales team is to make unanticipated changes to pay plans. An abrupt change in a pay plan creates a distraction from results-oriented behaviors. If you decide one day to adjust, reduce, make changes, or otherwise alter a pay plan without being very intentional about it, expect problems to arise.
Instead of making unannounced changes, great sales leaders get support and suggestions from their team. Begin to make your changes by asking for input. Don't ignore your team when it comes to their pay. They may have some great ideas.
2. Provide organized sales skills training for sales reps—regardless of experience.
Unfortunately, many managers believe that people who have a few years of selling experience don't need any training. The truth is that everyone – regardless of experience or age, and particularly given the times – could use some tips or a refresher course every now and then to continually improve. It's also important to have your team operating with a consistent sales process so that everyone is on the same page and able to "speak the same language."
Ironically, it's often the experienced "old pros" who really know the least. In many cases they have built their contact database based on relationships and being "professional visitors," but with the rise in a more advisory-style approach to sales, they could really benefit from upskilling of their skill sets.
Too often, a seasoned salesperson will simply rely on outdated selling techniques that don't cut it with today's buyers.
3. Focus on "in-process" measurement – instead of waiting for "end-process" assessment – when evaluating salespeople.
Measuring performance based on pure sales results alone won't tell you where to provide coaching in order to positively influence the outcome. Though it can be more challenging to measure performance throughout the sales process, doing so will give you a great deal more insight into your team's ability. It will tell you exactly where improvement needs to be made.
Every member of your team is better in some steps of a sale than in others. Thoroughly understand where those skill sets lie (and where they don't). Then, you can more effectively coach your team in-process to help them improve and see the benefits demonstrated in your end-process metrics.

4. Empower your salespeople to finalize their own transactions.
The best sales leaders recognize the importance of "teaching someone to sell so they can eat for a lifetime." Unfortunately, many sales leaders don't permit their sales reps to complete transactions. Salespeople must have the ability to usher a sale from beginning to end.
Sales Leadership Training shows how to manage (and coach) in the field and determine the point at which salespeople must carry the ball themselves.
5. Institute a sales process and coach within that system.
The best sales leaders understand that salespeople who want to consistently make more sales with less effort follow a consultative sales process that keeps the focus on the buyer. For example, our research found that 46 percent of leaders had completed or were advancing efforts to adapt their people and processed to the virtual selling techniques demanded in today's sales landscape.
When a company's entire sales team follows the same process, a strong sales culture is established, and cross-departmental alignment is more easily achieved.
6. Pay attention to every member of your sales team.
In practice, most sales managers tend to spend the majority of their energy coaching the "very best and very worst" salespeople on their team (the top 20 percent and bottom 20 percent).
The bottom line is that every member of the sales team should receive coaching – to help them keep doing what they're doing well, as well as to improve where they have challenge areas.
The only salespeople who shouldn't be coached are the ones who aren't open to coaching. In this case, it may be time to release them to the marketplace. Learn more about how to spot "coachability" in salespeople in this post.
7. Understand the balance between selling and leading.
Sales leaders have to spend time "in the trenches" with members of their teams. Without that credibility, leaders find themselves in positions of weakness. It becomes difficult not getting bogged-down in administrative or managerial paperwork, but it is essential that you keep one foot in the fire in order to accomplish two things: First, you will gain credibility with your team. Second, you will have a better idea about the challenges they face.
You must also fulfill your role as Leader, don't forsake it. After all, it is what you were hired to do! For many sales leaders who started out as salespeople, this is the biggest challenge. The requirements for successful sales leadership are completely different from those for success in sales.
Quality sales management training is necessary to give sales leaders the tools necessary to lead their teams to success.
8. Understand and encourage the individual differences within your sales team.
Every salesperson on your team comes with their own set of unique motivators, behaviors, and communication styles. The most successful sales leaders understand they must approach each team member in a way that gets through to them.
The most effective sales management training courses teach sales leaders how to recognize their own behavior style and adapt it to match the styles of each of their team members.
Speak with a representative from The Brooks Group today about our programs and assessment offerings that can help you put forth a best-practices approach to sales leadership.
View the video below to hear from one of our clients on his experience of the sales management training.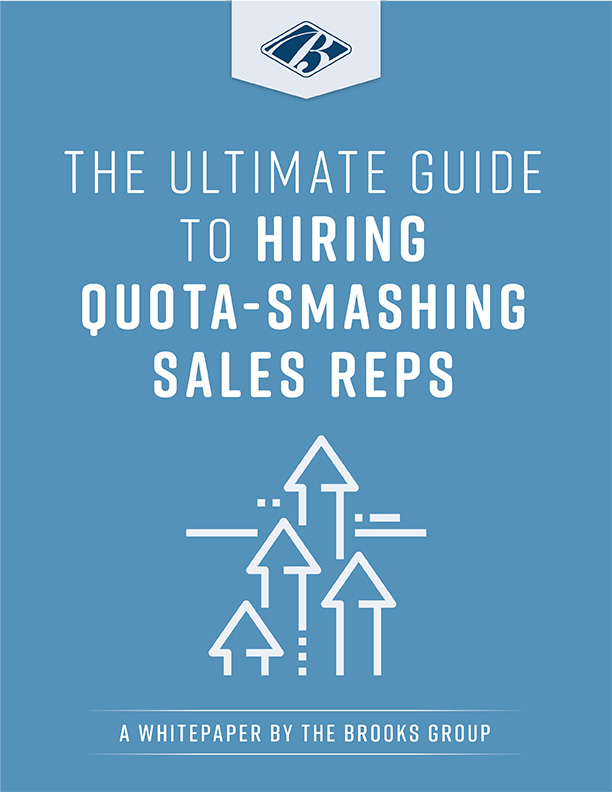 Are you fed up with lost productivity, time, and sales? Stop investing in lackluster salespeople, and start building a team of A-players today with this actionable guide.