The summer season is upon us. Warmer weather and kids out of school means vacation mode for your prospects—and unfortunately—slowed sales growth for your team.
Summer can bring sales slumps in many industries, but the slowed pace of business doesn't mean your sales team can't be productive. Amping up sales team motivation in the summer is as important (or more) than any other time of year.
Use these sales team motivation ideas to keep your team engaged and pressing forward during vacation season.
1. Plan a Sales Contest
Just like your prospects, your sales reps are probably spending a chunk of their day dreaming about a sunny beach or getaway. Why not turn that daydreaming into motivation by offering a contest to win an end-of-summer vacation?
The timing will benefit you in two ways:
1. Your reps will be motivated to perform during the distracting summer months with their eye on the end-of-summer prize, and…
2. You can find great rates on lodging and airfare towards the latter part of the season (think, end of August to early September).
If a vacation is out of your budget, consider offering smaller prizes—extra vacation days or tickets to an exciting Labor Day event in your area, for example.
2. Give Small Rewards
Your reps simply can't sell to clients that aren't in the office. So if the summer months make increased numbers unrealistic, focus on celebrating and rewarding the small wins.
Set up short-term goals for your sales team over the summer by finding something that your team needs to work on, and focusing on that. Maybe it's around increased social selling activity or local outreach. Whatever it is, the downtime gives a great opportunity to develop gap areas, and small rewards will help keep your reps engaged.
Your salespeople will feel motivated and appreciated with a fun reward—whether it's a small prize for a weekend outing, or a company-hosted outdoor event.
3. Invest in Training
Salespeople (and their managers) never seem to have enough hours in the day to get everything done. So when there's a lull in business due to vacation season, why not use it as an opportunity to work on sales skill development?
We all know that learning to do our job better is a good idea, the problem is there always seems to be higher priority issues that take precedence. Identifying the areas your sales team needs to improve on and committing the time to develop them will have an incredible impact on performance and revenue once prospects are back in the office.
Whether it's negotiation skills, consultative selling strategies, or simply refining a solid sales process, focus on a specific area your team can improve on and get it done!
Beat the summer sales slump and stay on track to hit revenue goals with targeted sales skills training from The Brooks Group. Learn more.
4. Break the Target Down
A large sales target can feel discouraging, especially when all your reps are receiving is "Out of Office" replies. Help to make the goal seem more manageable by breaking it into chunks. (Check out the full "chunking" strategy outlined in this blog post.)
Once you've broken down the numbers, work with your sales reps individually to create business plans that help them get closer to the goal. The plan should include high-gain activities salespeople should be doing on a daily, weekly, and monthly basis. You'll want to meet regularly to check in on their progress, and to celebrate successes and debrief failures.
If this is a new practice for your team, summer is a great time to implement it. It will keep them motivated and engaged, and will also allow them to make the process a habit for when business starts to pick up again after vacation season.
Conclusion
Summer should be filled with exciting times and memories, so don't let the dread of slowed business cloud over it. Help your sales team overcome the summer slump by implementing some of the ideas above, and keeping your salespeople motivated and focused on improving their selling skills.
The Brooks Group can help your team stay efficient and upgrade their sales performance this summer with targeted skills training customized to your unique needs.
In a world where time is a precious commodity, you can't afford to let these summer months go to waste. Learn more here.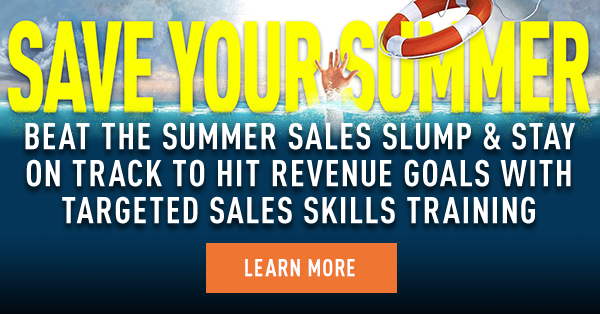 It's not often that you're able to get the whole sales team together in one place. Make the most of your annual sales meeting by keeping your salespeople engaged, and getting hyper-focused on the things that will improve your team's performance the most.