The annual sales meeting is a crucial part of setting the tone for the upcoming year with your sales team. It can be rare to get all of your salespeople together in one place, so use the time as productively as possible to communicate strategy, set priorities, and generate excitement for the upcoming year.
If you're intentional about the planning of your annual sales meeting, your salespeople will be more engaged and will walk away prepared to hit their goals in the New Year.
Here are some ideas to help make your annual sales meeting the best your company has ever delivered.
1. Get Input from Your Sales Team
According to research from the Sales Management Association, "lack of field input on prioritized meeting content" is a frequently cited shortcoming of annual sales meetings. This kickoff meeting is for your sales team, after all, so include them in the planning of the annual sales meeting agenda!
Try sending out a survey ahead of time to see where your sales reps' biggest challenges lie, and what type of content they would benefit from most in their day to day selling efforts. This will not only help you plan the most productive meeting agenda, but it will also keep your salespeople more engaged during the meeting itself because they know it's going to help them be successful.
2. Have Top Performers Present
It's a common mistake to only include presentations from executives or motivational speakers at the annual sales meeting. Your sales team is more likely to pay attention when it comes from one of their high-performing peers, so identify subject matter experts and have them give a presentation.
You'll benefit in two ways::
1) The salesperson asked to present will take ownership of that skill and perfect it further.
2) That knowledge will then be effectively shared with the rest of your salespeople.
3. Make Your Annual Sales Meeting Interactive
Let's face it, lectures can be boring. Keep your team awake and engaged by adding interactive components to your meeting. Tapping into as many senses as possible helps to reach all learning styles.
For example, videos, music, props at tables or in chairs, and scented markers require different parts of the brain to be engaged. This helps with retention of the information—and eventual application back in the field.
Incorporate a breakout session that focuses on specific skills development that will benefit your teams—like negotiation, sales process, or territory planning. Training that allows attendees to use their current accounts will improve their buy-in since they can see how the new skills will immediately benefit them with actual prospects and customers.
4. Choose a Theme that Inspires
You won't get much buy-in or enthusiasm from your sales team if your meeting is based around a cheesy theme. Pick an area of focus instead, maybe where your team's greatest challenge lies. Think "Outselling Lower Priced Competition" or "Strategic Account Management," for example.
Once you've determined your kickoff meeting's main objective, you can get a little creative with a theme that supports it. For instance, if your focus is on taking market share from a much larger competitor, you could use the 2017 solar eclipse for inspiration and build your meeting agenda around that theme.
5. Keep the Content Focused
Try to resist the urge to cram a year's worth of meetings into one event. Your sales team may be full of superstars but there's a limit to how much information they can retain in one sitting.
A good rule of thumb is if a topic can be covered effectively during a weekly sales team meeting or conference call, leave it out of your annual sales kickoff meeting. Keep in mind the "less is more" principle, and focus on the most important topics to make the biggest impact.
Conclusion
It can be rare to get all the salespeople in your company together, so when you do, be sure to make the most of your annual sales meeting agenda. Keep this list in mind when planning your annual sales team meeting, and make it engaging and productive with an interactive component that will help your salespeople reach the goals you've laid out for them.
Will your Annual Sales Meeting this year deliver results, or will it be remembered as "just another meeting" once everyone is back to their territories?   
The Brooks Group offers a selection of high-impact training programs that are a great option for annual sales meetings and can be customized to meet the needs of your organization and sales team. Learn more about planning a sales meeting that delivers results here.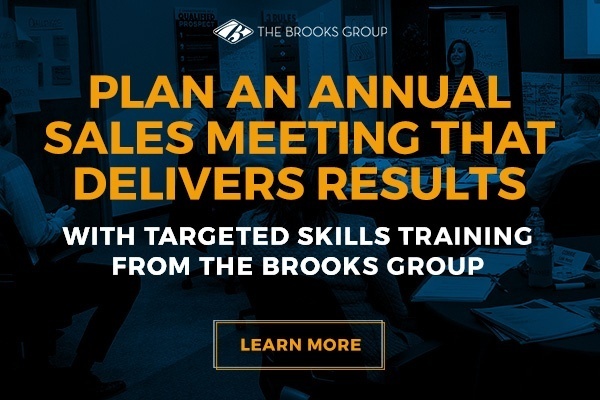 NOTE: Our sales training tools are designed to make your life easier. Use them to your advantage.
Create the Biggest Impact at Your Annual Sales Meeting
It's not often that you're able to get the whole sales team together. Make the most of your meeting by getting hyper-focused on the things that will improve your team's performance the most.