Why Choose A Sales Assessment Test for Hiring?
Despite our best efforts to attract, vet, and select new sales professionals, choosing good candidates can often seem random. We can't always see through the dewy veneer that a good sales candidate is adept at fronting. Indeed, how many times have you lamented, a few months after hiring that new team member, that the once-promising recruit was, in fact, a bust?
Though personality and intelligence can help us predict sales success – they don't tell the whole story. To truly understand a sales candidate's prospects for success, we need a gauge that gets to the heart of the person's value structure – and, more specifically, how they perceive the world around them and establish priorities.
At The Brooks Group, we employ a tool called the Brooks Talent Index – a multi-faceted sales assessment test which leverages the value structure concept. The Brooks Talent Index tracks the long-term potential for the success of the salesperson by looking at soft skills like resiliency, time management, ability to engage in long-range planning; and an examination of how they deal with the high-stress world of sales.
So how effective is the Brooks Talent Index in sniffing out the cream of the crop? Nearly 60 percent of hires vetted using the tool, according to our clients, are still contributing to their company two years post-hire.
Let's take a deeper look at the value structure concept by positing a few examples:
A top salesperson in a fast-paced, low base/high commission retail sales environment may be strongly motivated by economic gain and influencing other people's decisions.
A top salesperson in healthcare services may be strongly motivated by altruism and a sense of obligation to help others.
A top salesperson to the government sector may be motivated by knowledge acquisition and following procedures.
In each of these three examples, it's clear that personality alone, or self-assertion that someone is a "born salesperson," is no longer an adequate measure of potential success. To build a sales force that will succeed in upholding your specific business case, you truly need to understand the answer to the fundamental question: "Will they sell our products or services in THIS environment?"
Here's why this question is so important: A person can learn to master the mechanical steps of value-based selling, but achieving long-term success in sales requires the right person. When a salesperson fails or underperforms, it's usually not the steps of the sale that trip them up, it's their attitude about selling, their product or service, their customer, and/or themselves. How somebody sets priorities, what they value most, and if they have empathy for their fellow human beings will ultimately drive their sales performance.
Utilizing A Sales Assessment Test
With so much at stake, how do we ensure that the candidates flowing into our hiring pool are a general fit with our culture, philosophy, and goals?
Here are 10 tips that we find help companies achieve the best success in selecting sales candidates:
Don't hire just to fill an open spot quickly.
Don't hire just because you "like" someone.
Know EXACTLY what your environment requires for top sales performance.
Look beyond the formal interview.
Use an objective, statistically valid assessment for hiring.
Have the finalist(s) spend a day in the field with your top rep.
Formally evaluate the strength of their sales skills and intuitions.
Check to be sure the candidate invests in their own personal and professional growth.
Get specific about sales scenarios in your interview questions.
Stop convincing yourself to overlook yellow or red flags.
For more insights on how to succeed at selecting the right sales talent, request our complimentary whitepaper, The Ultimate Guide to Hiring Quota-Smashing Sales Reps.
For more than 40 years, The Brooks Group has partnered with sales organizations around the globe—helping them to hire, train, coach, and develop salespeople and sales managers to reach maximum performance levels.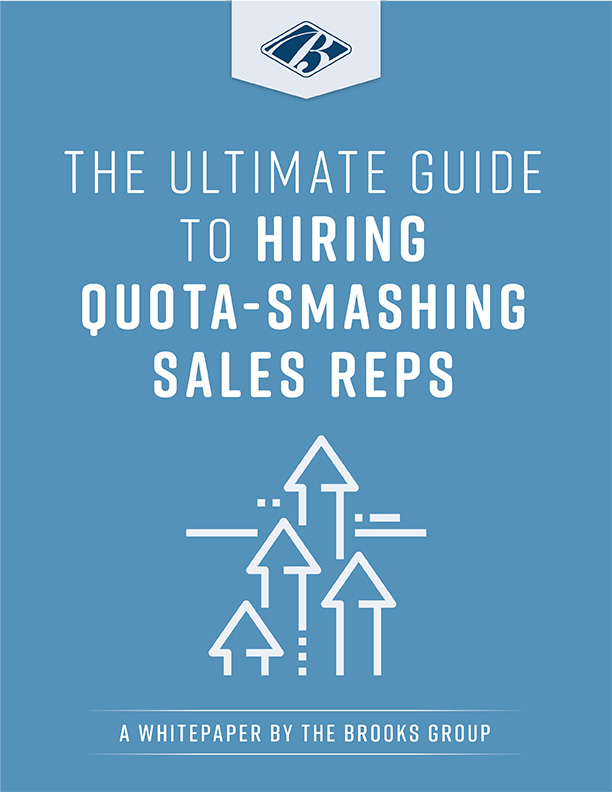 Are you fed up with lost productivity, time, and sales? Stop investing in lackluster salespeople, and start building a team of A-players today with this actionable guide.