Millennials on Your Sales Team
OK Boomers – we know that retirement is upon you, and it appears that Millennials are poised to set up shop in your shoes. More than 73 million members of this generation – defined as those born between 1981 and 1996 – have entered the U.S. workforce, and have upended conventional wisdom regarding career loyalty.
Powered by a sense of wanderlust, 21 percent of Millennials indicated they switched jobs within the last year, and 60 percent said they would jump tomorrow for the right opportunity. This excessive turnover among Millennial workers costs U.S. employers an estimated $30.5 billion each year.
However, with 34 million Baby Boomers (those born between 1946 and 1964) already retired from the workforce, and millions more joining the gold-watch gang each year, sales organizations need somewhere to turn to find the next generation of front-line sales pros.
For members of Generation X, who now fill top management roles, they are counting on finding qualified Millennials to step up to the plate.
But stereotypes about Millennials proliferate: "They're job hoppers," "They can't communicate without a screen," and "They're all so entitled." Even worse, less than 30 percent of sales organizations feel they know how to motivate Millennials to become a positive influence in their workforce.
So, how can companies deal with an ever-growing generation gap? And how can they discern what is real, and what is just conjecture, regarding Millennials?
Understanding Millenial Motivations
At The Brooks Group, we believe that no generation, or group of individuals, can be painted with such a broad brush. Though we agree that Millennial retention creates some unique challenges, we believe that for every self-absorbed, "entitled" 20-something, there's a self-aware, generous, ambitious 20-something.
Thus, it takes an understanding as to what makes individual applicants tick – what lies at the core of their id – to ensure you can hire good people (regardless of age or outlook). As a hiring manager, the challenge, regardless of generation, is to find the person who can, will, and wants to do this particular job, in this particular environment.
We employ a tool called the Brooks Talent Index to help benchmark jobs and assess people – applying science while taking the guesswork out of evaluating sales candidates. Sales organizations that employ the Brooks Talent Index end up with deep insights into each individual applicant's behaviors, motivations, and personal skills.
Understanding this – and considering the cultural, economic, and social factors that shape Millennials— can allow us to lead, coach, and manage them in a way that fuels their passion and creates engagement.
Millennial Hiring and Retention Keys
In our view, we find the following four areas are particularly important in attracting and retaining employees identified as Millennials:
A clear promotion path. Most college-educated Millennials want to stay and grow in their current job – they just don't have the patience when the "advancement" path isn't defined. Establish a clear pathway toward the career climb.
Work-life balance. Originally the domain of Generation Xers, Millennials, in general, have adopted a "work to live…not live to work" attitude. They want to be able to do a good job and be rewarded for it beyond what lands in the pay envelope. Consider schedule flexibility, more time off, opportunities to volunteer, corporate wellness programs, and social events with colleagues.
Purpose and meaning. Too, company culture and job satisfaction often outrank salary in importance to Millennial workers. Don't just pitch a job; instead, pitch a meaningful career for a company that has a strong stated purpose.
Personal impact. Millennials want to make the world a better place, and it's important to them to make a difference with what they do professionally. Be sure to provide affirmation that their efforts, specifically, are helping your company achieve its stated mission.
Ready to bridge the generation gap in your sales organization? Request our complimentary whitepaper, The Ultimate Guide to Hiring Quota-Smashing Sales Reps, and learn more about how to motivate Millennials.
For more than 40 years, The Brooks Group has partnered with sales organizations around the globe—helping them to hire, train, coach, and develop salespeople and sales managers to reach maximum performance levels.
Don't leave your hiring decisions to gut feelings. Create a blueprint for high performance and let Brooks Talent Index find the perfect match.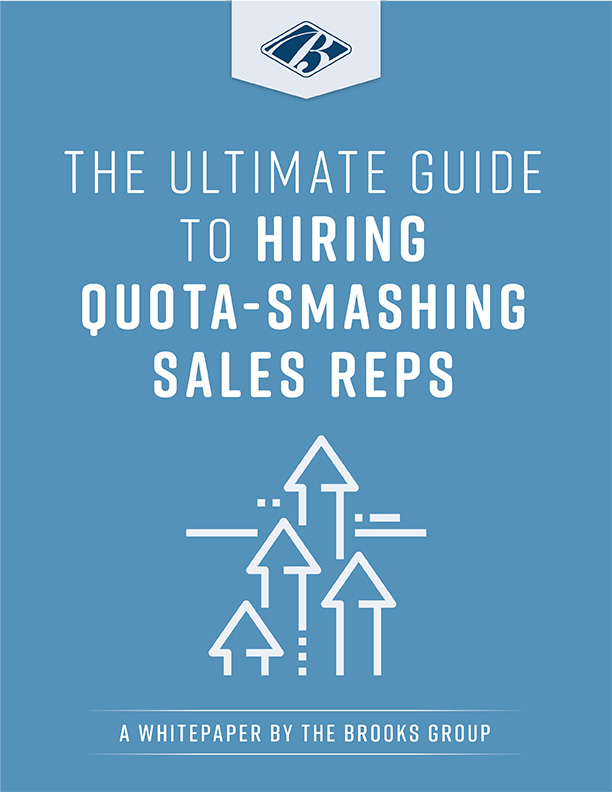 Are you fed up with lost productivity, time, and sales? Stop investing in lackluster salespeople, and start building a team of A-players today with this actionable guide.