Effective sales prospecting is one of the most challenging–and most important–parts of the sales process. Getting it wrong means wasted time and frustration. Getting it right means a healthier pipeline and better performance.
Here are 9 prospecting tips your team can implement before, during, and after each call in order to strike prospecting gold.
Before Each Call
A consistent set of effective techniques before each sales call will make prospecting time more productive. Here are three to focus on.
1. Look for Potential Clients in New Places
Cold calling used to be the best and only way to reach new prospects. Today's digital world allows reps to seek out new business in creative ways.
One good idea is to search Quora using keywords relevant to your industry and discover prospective clients who have a need that your business can meet. Your reps can provide a helpful answer, and link back to your website or a blog post they've authored on a similar topic.
This post from Neil Patel outlines how to use Quora for lead generation in more detail.
Social media is another great place to mine for potential customers. Check out this post for more LinkedIn lead generation tips.
2. Find Common Interests
Don't let your sales team settle for rushing through the research part of their prospecting responsibilities. Pre-call planning is key!
Teach sales reps not only to connect on social, but also to use the resources provided by social media and search engines to seek commonalities with their prospects.
A sales conversation that starts with a shared fandom, alma mater, or common interest sets the stage for a warm and productive relationship. Through their search, your reps might even find a shared connection who can introduce them to the prospect or other decision makers.
3. Build Confidence
Prospects respond more favorably to a confident salesperson than one who seems unsure of themselves.
Teach your salespeople to check in with themselves to see how they're feeling before each call, and to engage in pre-call exercises that pump up their enthusiasm and confidence.
Holding a power pose for two minutes prior to a call is proven to improve confidence, as is positive visualization. Listening to upbeat music is another technique many salespeople enjoy, and sometimes it's as easy as taking a few deep breaths!
Encourage salespeople to explore different approaches and to consistently apply what works for them.
During the Call
How the salesperson handles the call itself is make or break for prospecting success. Here are 3 techniques to improve in-call performance.
1. Practice Empathy
Nobody enjoys talking to people who are cocky, cold, or condescending. Teach your salespeople to practice a warm approach, and to empathize with the person they're calling.
They should use a consultative approach by taking the time to listen and understand the prospect's feelings about the call itself, as well as their feelings about the problem they're calling about.
Empathy also means understanding the communication style your prospect prefers, and adjusting to it. Prospects who feel listened to and understood will be more likely to want to move to the next step.
2. Ask Questions Instead of Pitching Solutions
An initial sales call should almost never be an attempt to close the sale. Its purpose is to warm the prospect up, establish a need, and communicate the next step.
Yet many salespeople jump right into pitching their solution before they've taken the time to understand the prospect's position.
Teach your salespeople to start with good probing questions that get the prospect talking and engaged. Great questioning techniques will also give your salespeople the information they need to guide the prospect to the next step.
3. Focus on Value
One of the biggest mistakes salespeople make when prospecting is to bombard prospects with a list of features and benefits of the product or service.
Instead, teach your salespeople to respond to the prospect's real needs and to have value-based conversations around how the solution will address those needs.
After the Call
It's common for salespeople to want to rush from one call to the next, but this causes them to miss important opportunities. Instead, make sure your reps take the time after the call to focus on these 3 activities.
1. Follow Up
Teach salespeople to follow up with an email or other communication immediately after the call. They should at minimum thank the prospect for the conversation.
When a prospect has expressed interest, this communication should also reiterate the problem that was discussed and the next step that was agreed upon.
Additionally, sales reps should consistently record this information and set a reminder for the agreed-upon follow-up. If they set another meeting, be sure your reps are creating the most effective email meeting invite.
2. Evaluate Performance
Salespeople who are dedicated to continuous improvement will nearly always outperform their peers. Teach your salespeople the importance of pausing after each call to evaluate what they did well, where they struggled, and how the prospect responded.
These few moments after each call will help salespeople to tune into their own performance and identify areas for improvement, as well as build their confidence in the areas they excel in.
3. Analyze the Data
Most sales leaders know to hold salespeople accountable to their number of prospecting activities each week. But you can greatly improve performance by analyzing other types of data as well.
For instance, do you know what industries each salesperson has the most success in? The size of the companies they're reaching? The correlation between time spent on each call and their success in setting the next step? Understanding these and other factors can help managers coach each rep in the areas they most need improvement in.
Conclusion
Great prospecting is the foundation of a healthy pipeline, and like any other aspect of sales, it requires a consistent process for success.
If your sales reps are challenged with prospecting, or other performance skills that are holding them back from hitting target, The Brooks Group can help.
Targeted skills training customized to your unique needs can help your team stay efficient and maximize their sales performance this summer. Discover more here.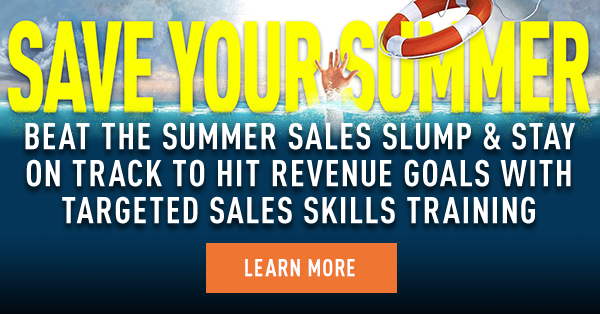 13 Winning Questions
Asking the right questions is key. Here are 13 that you should never leave out of a sales call.