Sales training is essential to an organization's success, and it's a powerful tool for developing the full potential of every sales rep. Not all sales training programs are created equal, however, and the success of a program is due in large part to the individual delivering it—and the approach they take.
The Brooks Group's training programs are led by expert sales trainers (aka facilitators) with real sales experience.
Why? Because we believe that the person training your sales team should have world-class training skills, along with the field experience to back up the content they're teaching in the classroom.
Part of our rigorous screening and training process includes making sure each of our sales trainers has the following skills and characteristics.
7 Characteristics of a Successful Sales Trainer
1. Has Real-World Sales Experience
If someone is delivering training sessions to a room full of salespeople, it's imperative that they've actually sold at some point in their career.
Sales professionals will quickly be able to tell if their instructor has gained insight from professional experience. This is critical in gaining trust, building credibility and "selling" the training to the participants.
When the sales team raises questions, the trainer should be able to share from real-world experience to coach on skills and best practices.
2. Has Leadership Experience
Being able to draw on a professional selling background will win the trust of an audience in a program. If a sales trainer has experience in a leadership role, they'll take this level of trust one step further by understanding the needs of the group and what it takes to deliver an engaging and successful learning experience.
Sales trainers with leadership experience make good coaches in the classroom, and are invaluable during sales management training programs.
3. Is Intellectually Curious
The most successful sales trainers have a passion for learning and growth because it ultimately makes the training sessions they deliver more successful. They are willing to spend time conducting research on the:
Audience they are delivering training to
Industry the sales organization is in
Company's product or service
Short and long-term goals and sales strategy
Organization's unique business challenges
Latest best practices in Adult Learning
This drive to learn guarantees the group will have a meaningful and transformative experience in the classroom.
4. Is Humble
Often, people who are drawn to the training profession tend to be ego-driven. They want to be at the front of a room in control of an audience.
A highly impactful sales trainer knows that to facilitate an excellent learning experience the focus must remain on the participants and their development. They will balance talking and listening, and make every sales professional in the room feel heard and important.
5. Facilitates Discussion
Learning is most effective when participants are interested and engaged with the material being presented.
A good sales trainer knows what kind of questions get people talking, and can adapt to the unique set of personalities present in a program. They will orchestrate constructive conversations, and reel in off-topic chatter.
6. Is Altruistic
The best sales trainers will be genuinely invested in the success of their participants, and this will come through in their training delivery.
They are intrinsically motivated by giving back, and they get a deep and genuine "charge" out of seeing participants connect the dots and get excited about the material.
A good sales trainer wants to positively impact each participant's career path and is plugged into what happens after the group leaves the location of the training program. Sales trainers for The Brooks Group review survey and ROI data after a program is delivered and are always looking for opportunities to improve their impact.
7. Is a World-Class Communicator
Training programs condense a large amount of information into a short period of time. An excellent sales trainer will have mastered the ability to communicate complex ideas into easy-to-absorb concepts that resonate with attendees. A great message isn't of any value until it has been effectively communicated.
Conclusion
A quality facilitator is key to the sales enablement process and can make an enormous difference in the overall success of your sales training program.
Give your sales team the best chance for success by selecting a provider with a team of world-class training facilitators.
To discover The Brooks Group's sales training facilitation philosophy and view videos of real sales trainers in action, click here.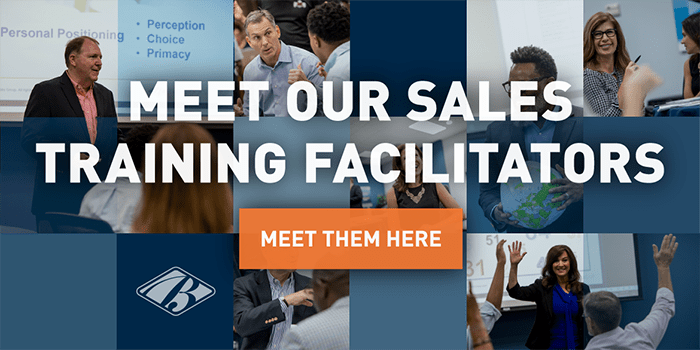 NOTE: Our sales training tools are designed to make your life easier. Use them to your advantage.
The Sales Training Buyer's Interview Guide
If you're a sales leader in the market for enterprise-level sales training for your sales organization, chances are you're busy… very busy. And evaluating sales training providers can be time-consuming, complicated and confusing if you haven't done it before. In keeping with our commitment to be the go-to practical and commonsense sales training option, we've developed The Sales Training Buyer's Interview Guide.