Onboarding new sales reps effectively is a critical success factor when it comes to retention and performance levels. Unfortunately, it's an area that most sales organizations struggle with.
In fact, a study from the Sales Management Association reveals that 62% of companies consider themselves ineffective at onboarding new sales hires.
Increasingly expensive sales turnover makes poor onboarding an unacceptable problem. When onboarding fails, it's often due to one of the following two flawed approaches:
Sink or swim
Drown with info
In the "sink or swim" onboarding approach, a new sales hire spends their first days filling out paperwork and is then dropped into work without the proper preparation. Any sales rep who has been victim to this probably felt like they were told, "Here's your territory and list of cold leads – GO!"
In the drown with info onboarding approach, new sales hires are sent immediately through weeks of structured training without time for them to process their place in the organization.
Both approaches result in delayed ramp-up time and higher than necessary turnover rates.
Now that we've covered what NOT to do when onboarding new sales hires, let's jump into the steps you should take to do it successfully.
7 Steps to Onboard New Sales Hires Effectively
1. Set clear expectations for them
Don't leave your new hires to try and figure out their success markers on their own. Provide every new sales hire with clear expectations including:
General company guidelines
Job expectations and work standards
Measurable outcomes
Feedback/meeting cadence
Correct channels of communication
2. Review their assessment results with them
Hopefully you're using a validated assessment to hire, onboard, and train your salespeople. Take the time to have sales managers review the assessment results with the new sales hire within their first few days on the job.
Reviewing the information contained in the report will help the sales hire better understand themself and the best ways to communicate with their manager and other team members.
(Learn more about comprehensive sales hiring assessments and request a free report and debrief here.)
3. Train them to perform at high levels quickly
It's critical that your organization have an intentional training strategy established for new hires you bring onto your team. Initial training should cover topics such as product line, competitor info, and of course, the standardized sales process your team follows.
A standardized sales process such as IMPACT Selling gives sellers a roadmap to follow to successfully guide buyers through to the close. It also provides a common language that keeps the team productive, efficient, and rowing together in the same direction.
4. Introduce them to your company culture
Every company has a culture—whether you're intentional about establishing it let it happen on its own is up to you.
Take time early on to outline your core values, the way your teams communicate, and other factors that contribute to your company culture. Regularly highlight team members who excel in key areas so that your new hires know who to model their behavior after.
5. Schedule ongoing coaching
Coaching is a critical catalyst for high performance and sales rep retention. Salespeople who feel supported, respected, and mentored will not only excel, but will also be more likely to stay with your company for the long haul.
Let your new hire know to expect regular coaching and feedback, and schedule ongoing check-ins or one-to-one meetings to discuss where they're doing well, and which areas could be improved upon.
6. Establish a career path
Career pathing shows new sales hires that they're more than just a cog in your machine. It demonstrates that you genuinely care about them and are committed to their development at your company—that their success is your success as well.
An assessment comes into play here as well, as determining a new hire's motivators will help you in collaborating with them to design the most appropriate career trajectory.
7. Establish an onboarding cadence
Onboarding should occur according to a structured format that:
Sets a new team member up for success
Allows them to fly (with coaching support from their leaders) and,
Checks in at established intervals to assess performance
The first couple of days are critical, so be sure to establish an agenda and stick to it. A sample onboarding agenda can be downloaded at the end of this post.
We recommend establishing a 30-day, 60-day, and 90-day plan with cadences for training and coaching as well as realistic and measurable goals for each milestone.
To give your salespeople the greatest chance for success, partner with an experienced training organization who can provide the training and reinforcement necessary to make sales excellence the new normal for your team.
Hear from one client on how IMPACT Selling gave his team a process, language, and method for succeeding in sales.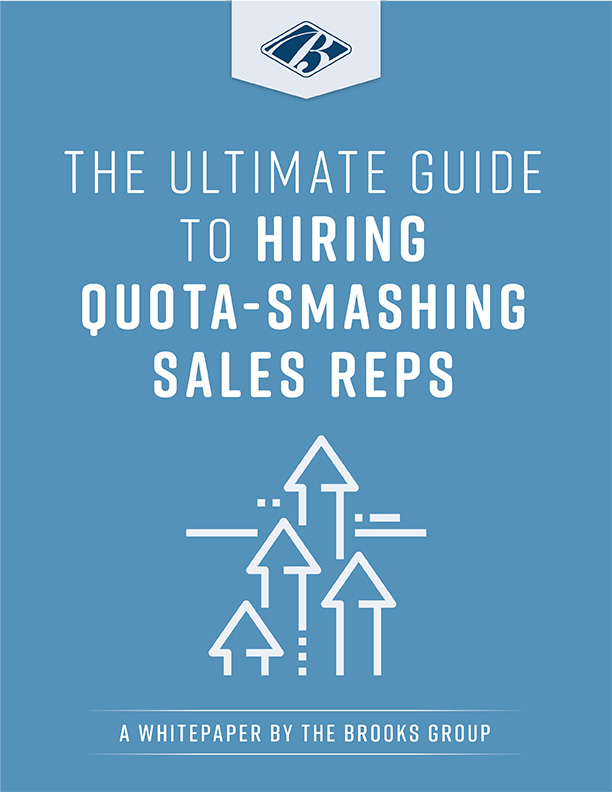 Are you fed up with lost productivity, time, and sales? Stop investing in lackluster salespeople, and start building a team of A-players today with this actionable guide.