Sales Coaching and Reinforcement
Learn. Practice. Sell. Coach. Ensuring your sales team performs at its best starts with a commitment to continuous improvement.
Learning never stops – and when you consider that competitive forces, market conditions, technology, and other headwinds will conspire to constantly reshape your landscape, you need a perpetual commitment to improvement that starts at the top. If you are a sales leader looking to keep your sales team focused on changing goals, make The Brooks Group your partner in excellence with a host of programs and tools to empower you and your sales team not just for the sprint, but for the marathon.
The Brooks Group Coaching includes 6 sessions with one our experts and a subscription to BrooksUP Interactive Digital Library that gives you the tools and insights to reinforce your sales training takeaways. The combination of live coaching and digital reinforcement helps to ensure sales professionals are truly understanding and implementing newly learned skills with customers and prospects. Through the interactive coaching program, participants have the opportunity to apply key concepts while being guided by an expert sales coach and their fellow team members.
Why Choose The Brooks Group Coaching
Finding the right sales program for your team can be overwhelming, especially when you start to weigh the options that are available. So, why choose The Brooks Group Coaching? The answer is simple. We use hard data to help determine where additional growth is needed. 
The Brooks Group Coaching is truly easy to learn and apply, but the reason that it is so powerful is because of the flexibility it allows. Whether you and your team are selling products virtually or you're looking for methods to help draw qualified individuals to work with your team,  The Brooks Group Coaching can help. Transform your business with customized sales training, sales management, and sales hiring assessments. 
After just a few weeks of implementing coaching, most businesses will see a positive impact on all sides of the process.
The Brooks Group Coaching helps to:
Elevate Relationships

Maintain Integrity

Increase Valuable Communication

Find and Develop Areas of Improvement
When looking for a sales training solution that can mold to your environment, your goals, and your overall needs, look no further. Let our team help you visualize how coaching would look for your sales team when you contact our team for additional information.
Pairing a sales training program with sustained reinforcement is the secret that top-performing sales teams use to stay ahead of the pack. Choose the coaching and reinforcement option that is right for you — and commit to be among the best.
Are you ready to take your sales team to the next level? Contact our team to learn more about The Brooks Group Sales Coaching or to inquire about any of the other sales training programs available. Fill out the form below and a member of our team will reach out to you.
Sales training and sales management services provided by The Brooks Group are designed to be customizable, which is why you can ensure that all training programs that you invest in through The Brooks Group will yield a higher success rate than any you've used in the past.  
While all of the sales training programs that we offer are customizable, the very core and principles of the IMPACT training will be incorporated. Given that this is the case, The Brooks Group is able to serve a variety of industries across the world. 
While there are over 350 industries that the IMPACT sales training program has been used to improve, there are a handful that we specialize in the following industries:
The IMPACT Sales Training is customizable and it is flexible. In the case that you don't see the industry that you belong to listed above, reach out to our team and learn more about how our sales training programs could help your sales team.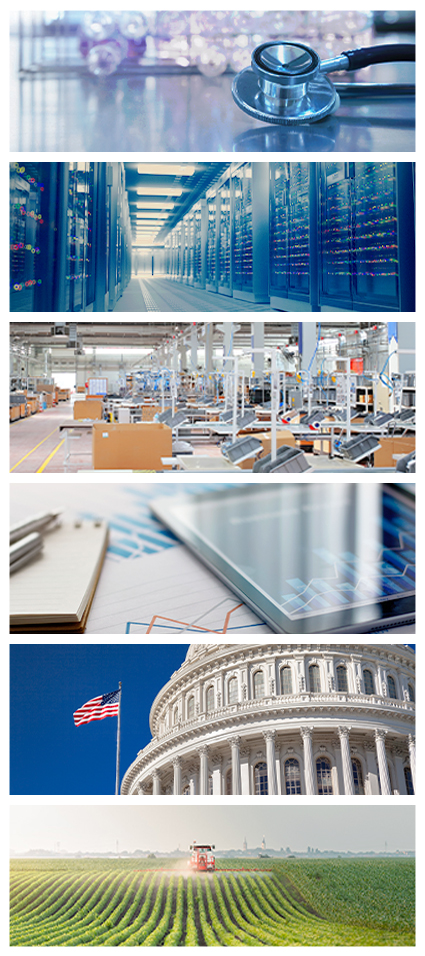 The Brooks Group – Who We Are
The Brooks Group is a team of motivated individuals looking to take sales professionals and their skills to new heights. We wanted to provide more than a questionnaire with a standardized response on how individuals could improve. Our approach to improving sales techniques and sales professionals utilizes true science and genuine insights that, together, create a training program that works. 
With over four decades of experience in the sales industry, The Brooks Group is able to deliver insights that are relevant for today. Using the data collected and decades of experience, our team is able to provide unmatched levels of insight as to how your sales team can grow and improve. 
At the end of the day, our training programs are designed to help increase sales and overall revenue, but they're also to help the sales team as a whole. From hiring qualified individuals from the get-go to helping sales leaders fine tune their leadership skills, we analyze all moving parts of your sales team and sales process so that we can determine which areas are in need of improvement.
Benefits of Investing in The Brooks Group Coaching Program
When investing in your team, you want to ensure that you're making a wise investment. Below are a few of the benefits that you will see when you decide to invest in the IMPACT Sales Coaching Program by The Brooks Group.
Every team has areas that could benefit from some additional coaching and overall education. With the help of The Brooks Group, your team can determine where the weak points are and get the coaching to improve them. In the end, this training helps to build a team that is stronger and more likely to succeed.
Improved Confidence For Your Sales Team
Knowledge is power. When your sales team is able to continue building their knowledge and skills, they are sure to improve. With this comes a level of confidence that is required in sales. 
If you're noticing a lack of confidence in your sales team, additional training and coaching is a fantastic next step to help them develop the skills needed to deliver a confident sales pitch.
At the end of the day, the goal for every sales team is to increase the revenue that they're bringing in. With additional training and sales coaching, your team will see an improvement in their ability to build relationships, deliver pitches, and close deals. This in turn leads to more sales and an increase in revenue. 
If you're seeing that your team has become stagnant or as a whole the sales team is struggling to hit goals, investing in sales coaching will yield so many opportunities for growth for your team.
Contact Us For More Information
These are just a few of the benefits that your team will see after choosing to invest in a sales training program with The Brooks Group. Interested in learning more? Contact our team today to get started.