The brooks Group Moves to Downtown Greensboro Tower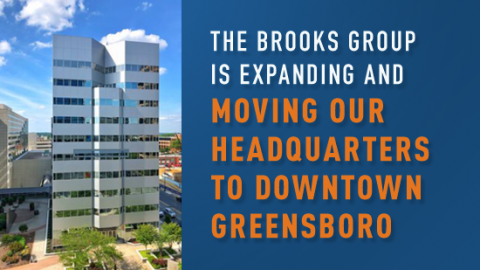 GREENSBORO, N.C., October 8, 2018 (Newswire.com) The Brooks Group, a global sales training and selling solutions firm, is moving to downtown Greensboro. The move will be from their current location in the Lake Jeanette office park into a larger, higher-profile location that is a better cultural fit for the growing company and its clients. Recognized in the Triad Business Journal's "Fast 50" list in 2017, The Brooks Group has experienced tremendous growth in recent years and anticipates doubling the size of the organization in the years to come.
The Brooks Group is a four-time winner of the Triad Business Journal's "Best Places to Work" awards, named as a "Best Employer in North Carolina" by Best Companies Group, and recipient of the "Happiest Company Award" by TINYpulse. The move will bring more job opportunities to the local area. The Brooks Group helps clients grow their companies with sales training, sales management training, and sales hiring solutions. The move will bring more local visibility to the family-owned company–whose services can unlock tremendous business growth–but has primarily helped clients outside of the Triad. The new prominent, downtown location will enable The Brooks Group to connect with more local companies looking to grow their businesses with world-class sales effectiveness.
"The Brooks Group's new headquarters will be designed to sustain the growth we are experiencing. We're excited to be part of the downtown Greensboro community, and to be more engaged in where our team lives and plays. This move will give both our team and our clients easier access to the downtown area–it provides the right image for us."
 – Jeb Brooks, President and CEO of The Brooks Group