Choosing a sales keynote speaker for your annual sales meeting is a challenge. To make your event memorable and productive you need the kickoff to be engaging, inspiring, educational, and relevant.
Finding all of those qualities in one sales keynote speaker, within the budget you've been given, can be daunting.
Here are 7 steps you can take to choose a sales keynote speaker that makes a lasting impact on your team's performance.
Step 1: Define the Event's Theme
The ultimate goal of your annual sales meeting should be to increase sales performance. The keynote speaker and topic that you choose are the perfect opportunity to target the challenges your team faces and help them overcome them.
Involve your salespeople early in the planning process to get a clear idea of what will be meaningful to them. Ask your sales reps:
What are the biggest challenges you face in our selling environment?
What type of content or training would be most helpful for you?
How are you looking to grow this year—both professionally and personally?
Step 2: Establish Goals for the Keynote
There's a good chance the keynote presentation will be the aspect of your meeting that everyone remembers. It can set the tone for the rest of the event, so be sure to establish goals for the keynote.
Some goals may include:
Supporting and enhancing the event's theme
Giving salespeople practical training to walk away with new skills
Being relevant to all attendees—including salespeople and any other departments that attend the event
Combining your preferred mix of entertainment, inspiration, motivation, and training
Step 3: Understand Your Budget
A famous name may run you $15,000 or more for a keynote speech. Remember, a recognizable name is not what's important.
What's truly important is that the speaker you choose be credible and backed by years of experience in the sales or sales effectiveness industry. They also must speak on a topic that's relevant and valuable to your team.
The keynote will be the thing that ultimately creates a lasting impact on your team's performance, so it should be prioritized over a fancy location or venue, if your budget needs to be stretched.
Step 4. Conduct Your Search
Planning an important event like a sales kickoff meeting can feel daunting, but the earlier in advance you can get started, the better. Event speakers typically book up quickly as the new year approaches so you'll want to secure your preferred speaker and topic.
Here are some recommendations for searching for the perfect sales keynote speaker:
Look for Expertise – Determine who seems to have a wealth of knowledge on the topics you'd like covered during your annual sales meeting. If there is a group or organization you trust to be experts, explore options they have for keynote speakers.
Ask Colleagues in Your Industry – Reach out to connections in your industry and ask if they have attended or hosted sales kickoff events that had an outstanding keynote presentation.
Poll Your Sales Team – Your sales team may have a trainer, facilitator, or a book author they have either worked with in the past or who's work they've admired from afar. Ask them who they think would be a good fit to deliver a keynote presentation.
Step 5: Narrow Your Selection
Once you've gathered a few potential sales keynote speakers, review each candidate's marketing materials to determine:
How well they align with your requirements
Whether they speak on topics that will help your team grow
How much experience they have in the sales industry and in training/presenting
If they've partnered with notable clients
If they have video of their presentation style
Whether they have excellent testimonials and references
Ask potential speakers how they will work with you to support your event's goals and theme, and expect them to express willingness to explicitly support your brand and event in the ways that you need them to.
Step 6: Book Your Keynote and Share the Agenda with Your Team
Once you've chosen your speaker and agreed to terms, let your team know who they'll be hearing from.
Share your annual sales meeting agenda with your sales team ahead of time so they know what they can expect—and the level of accountability you expect from them.
You can encourage management to drum up excitement, and let the team know they'll be walking away with skills that will help them increase their revenue and grow their business.
Step 7: Solicit Feedback After the Event
Make each event you hold better than the last by soliciting feedback from your team.
Ask your team the follow questions after your event wraps up:
What did you think of the keynote presentation?
What were your biggest takeaways from the event?
How will you be able to apply what you learned at the event to your everyday selling activities?
Soliciting feedback from your team not only helps improve your meetings in the future, it lets your team know that you're planning it with them in mind.
Conclusion
Planning your annual sales kickoff meeting can feel challenging, but it doesn't have to be.
By focusing on the topics and presentations that will help move your team forward the most, your meeting can practically plan itself.
The Brooks Group offers a wide variety of keynote topics and sales training programs that can be adapted to fit the length and format of your meeting. 
Explore available options here and secure your presenter today before they book up!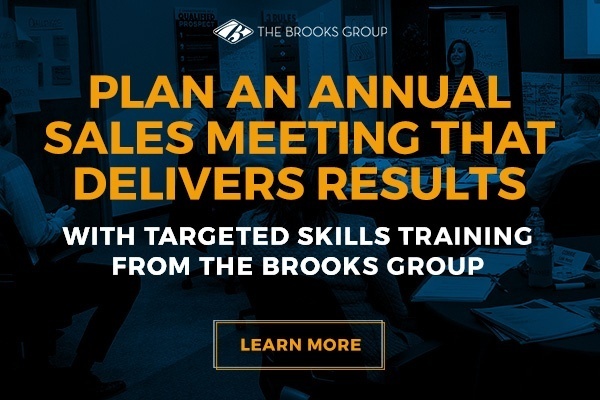 NOTE: Our sales training tools are designed to make your life easier. Use them to your advantage.
Create the Biggest Impact at Your Annual Sales Meeting
It's not often that you're able to get the whole sales team together. Make the most of your meeting by getting hyper-focused on the things that will improve your team's performance the most.